Online rummy is legal
Online Rummy has got popularity these days due to its emphasis on logical reasoning and skill. The game Rummy is considered a skill-based game permitted by the law of India. The Honorary Supreme Court of India acknowledged the game as a skill-based one, unlike games of chance or luck, and protected by Article 19(1) of the Indian Constitution. Because the game requires strategic planning to make a win. As a result, playing Rummy is completely legal in India except in the states of Andhra Pradesh, Odisha, Telangana, Assam, Sikkim, and Nagaland.
Playing online Rummy requires a certain level of expertise from sorting the given cards to grouping them into sequences. Also, memorising the card falls, holding and discarding cards, and keeping the good sequences are important factors. 3Plus Games ensures the enjoyment of risk-free real-money games while winning real cash. The payments in the platform are secured with SSL (Secure Sockets Layer) certificate and ensure a safe and secure environment while playing Rummy online. If you have a high degree of basic cognition, strong memory, and close attention to player movements, then you will be an expert in 3Plus Rummy.
How To Play Rummy
2-player and 6-player versions of the Rummy card game are available on 3Plus and are played using one or two standard decks of cards. Each player is given 13 cards at the beginning of the game, which they are destined to arrange in sets and sequences.
Each card in Rummy has a value, and from lowest to highest, the cards in each suit are graded as follows:
2, 3, 4, 5, 6, 7, 8, 9, 10, J, Q, K, and A. Arranging these cards in sequences will make you win the game. There are various rounds in Rummy and the one who won the toss will start playing.
In each round, a player must draw a card from either the open deck or the closed deck, both of which are kept in the middle of the table, and then discard a card to the open deck. The player should form sequences here by drawing and discarding the given cards.
In Rummy, four sequences must be formed to win a hand or make a valid declaration. From those, one sequence should be a 4-card sequence and the remaining three should be 3-card sequences.
A sequence in Rummy constitutes a group of three or more cards from the same suit. Pure and impure sequences can arise from the given hand. Your hand must have at least one pure sequence and an impure sequence to win a game of Rummy.
A group of three or more cards in a row that all belong to the same suit will constitute a pure sequence. In the Online Rummy, a player cannot create a pure sequence using the Joker or a wild card.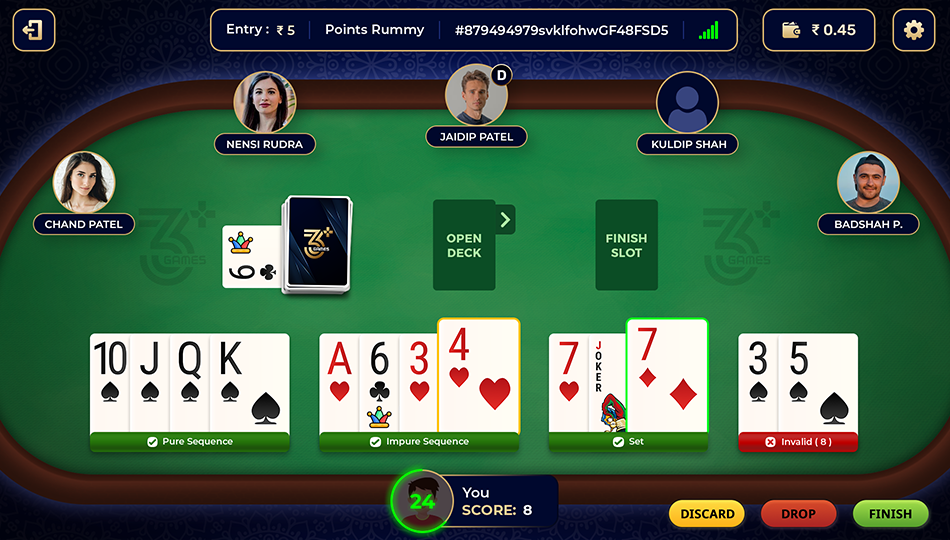 Making Sequences
Pure sequence
3

♠

4

♠

5

♠

6

♠

(Showing a pure sequence with four cards of Spades placed in consecutive order)
8

♦

9

♦

10

♦

(Showing a pure sequence with three cards of Diamonds placed in consecutive order)
Impure sequence
An impure sequence constitutes two or three same-suit cards arranged in order, along with a joker or a wild card. Here, a joker will complete a sequence.
5

♦

6

♦

J

♠

8

♦

(Where J

♠

is a joker)
J

♠

4

♥

K

♠

A

♠

(Where 4

♥

is a joker)
Set
A set is a collection of three or more cards with the same value but of different suits. You can use jokers and wild cards to complete a set. Yet, a set containing two or more cards of the same suit is considered invalid.
Q

♥

Q

♣

Q

♦

(Showing a set of Queens. Here, all the Queens are of different suits, make a valid set.)
6

♦

6

♣

6

♠

6

♥

(A Rummy set is formed with four 6 cards of different suits.)
When you receive your cards, there will be a 'Sort' option on your screen to sort the same suit of cards. After that, you can group 3 or 4 cards just by clicking those cards and the option 'Group'. If you are not satisfied with the cards given, you can drop the game by clicking the 'Drop' option. If you are ready to Declare, then discard the remaining card to the 'Finishing slot'.
There can never be more than 13 cards in the hand at once. The first person to make a valid declaration while abiding by all rummy rules wins the game.
Points
In Points Rummy, each card holds a value. The numerical cards are worth their respective face value and the face cards K, Q, J and Ace cards each worth 10 points. Also, when playing Points Rummy, the cards have a negative value and hence the winner of the game always receives 0 points. But the penalty points incurred by the loser depend on the number of points they failed to meld during the game.
The 3 variants of 3Plus Rummy are Point Rummy, Deal Rummy, and Pool Rummy.

Play real money games online and win incredible rewards on 3Plus.